New Delhi: 
Voting in five states – Telangana, Chhattisgarh, Rajasthan, Madhya Pradesh, and Mizoram – has concluded today. They were hard-fought elections, with all the major political players leaving no stone unturned to convince people of the states to vote for them. In the poll of exit polls, we would analyse what the outcome of the polls might be on December 11, when the results will be declared. In Madhya Pradesh, the fight was between Chief Minister Shivraj Singh Chouhan and his rival team of Jyotiraditya Scindia, Kamal Nath and Digvijaya Singh. While Mr Chouhan, the three-time Chief Minister, talked about his performance, the Congress leaders attacked him over the alleged Vyapam scam. In Telangana, the Congress-TDP alliance took on the TRS. Congress chief Rahul Gandhi called K Chandrashekar Rao, known as KCR, 'Khao Commission Rao'. Mr Rao, however, was unfazed and returned the barb, saying Rahul Gandhi spoke like a joker. In Rajasthan, the Congress is relying on the anti-incumbency factor against the Vasundhara Raje government. In Chhattisgarh, the Congress hopes to unseat Raman Singh, the Chief Minister who is seeking his fourth term. The main issues here were Maoism, tribal welfare and development. The elections in the states were fought on the national level as well. For the Congress, Rahul Gandhi campaigned extensively, attacking the BJP over the Rafale jet deal. Whereas the BJP, led by Prime Minister Narendra Modi and party chief Amit Shah, attacked the Nehru-Gandhi family, attacking it for not doing enough for the country.
Here are the live updates of Poll Of Exit Polls:
For the latest News & Live Updates on Election Results from each assembly constituency in Madhya Pradesh, Rajasthan, Mizoram, Chhattisgarh, Telangana, like us on Facebook or follow us on Twitter for updates.
Here is what the poll agencies predict about poll outcome in Chhattisgarh.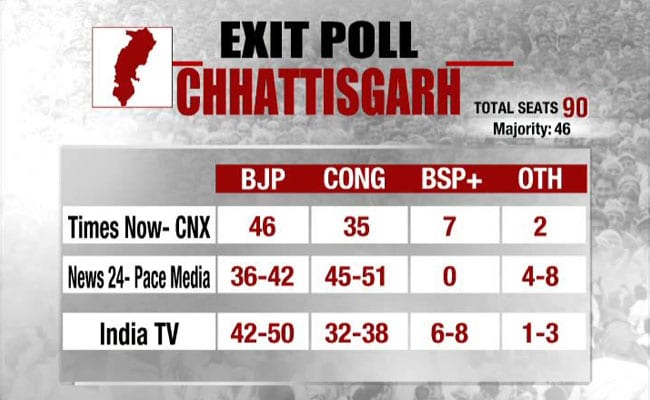 Here is what other poll agencies are saying about poll outcome in Madhya Pradesh.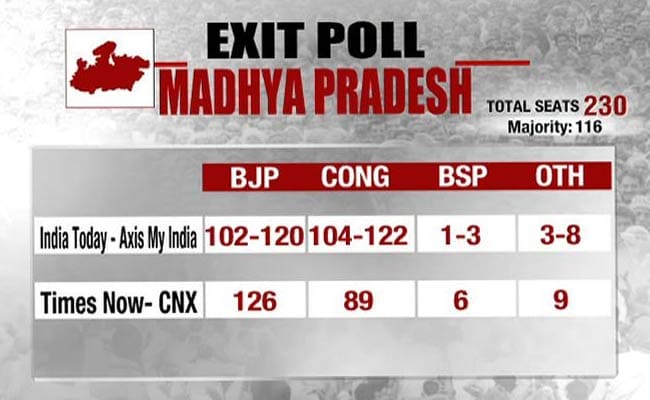 In Chhattisgarh, the BJP is set to win 46 seats, getting majority in the state. The Congress is expected to won 35 seats, the BSP and its allies to win 7, whereas others are set to win 2 seats.
In Chhattisgarh also, the poll of exit polls predict that the BJP is set to get majority.
In Madhya Pradesh, the BJP is set to win 118 seats. The Congress is set to win 101 seats. BSP might win 4 seats and others are set to win 7 seats.
In Madhya Pradesh, the poll of exit polls gives majority to the BJP.