NRA Money to Congress – Follow the Cash and Make a Change in 2018



Read Full Story
(CNN) — Ever ogled the spectacular scenery of "Star Wars" and wished you could be transported to a galaxy far, far away?
Or have the time of your life watching "Dirty Dancing" — and fantasize about your own summer at Kellerman's resort?
Film fan Andrea David takes these dreams one step further — she travels the world looking for the locations used in her favorite movies and TV series.
When she tracks them down, David aligns printed-out film stills with the real-life destination, merging the silver screen with our reality.
"I thought it would be fun to try to align the image with its real background to mix up fantasy and reality in one picture," David tells CNN Travel.
Movie magic

David recreates classic movie moments including scenes from "Dirty Dancing." Pictured here: Mountain Lake Lodge, Pembroke, Virginia.
Courtesy Andrea David/Filmtourismus.de
German-born David started the project while she was studying tourism management in Munich. She decided to write her diploma thesis on the influence of cinema on tourist habits.
"I gained a taste of it and started traveling to various filming locations," she recalls. "After my thesis I continued traveling this way because I really enjoyed it."
David started taking printed photographs of the film scenes with her — but at first it was simply to help her track down specific locations.
David posts her photographs on her Instagram account and her travel blog. Pictured here: Beaufort, South Carolina — "Forrest Gump."
Courtesy Andrea David/Filmtourismus.de
"It's easier to ask local people about filming locations when you can show them the specific scenes," she explains.
It was while traveling in Cambodia, searching out a location for "Lara Croft: Tomb Raider," that David had the idea to take a photograph of the photograph.
Since then, her idea has taken off — and David posts photographs of her film stills in their real-life locations on her popular blog Filmtourismus.de and on her Instagram account @filmtourismus — which has over 82,000 followers.
Worldwide attention

David has started working with tourism boards and travel companies. Pictured here: Icc, Messe, Berlin, Germany — "The Hunger Games."
Courtesy Andrea David/Filmtourismus.de
David's photographs are perfectly aligned, striking amalgamations of reality and fiction.
But they don't just have artistic merit: fans keen to follow in the footsteps of their favorite films now use David's pictures to devise their own itineraries.
"A lot of people wrote me that they are grateful — because they finally know if and where they can find their places of longing — or just received great new travel ideas," says David.

Fans use David's photographs to track down their favorite locations. Pictured here: Tyrol, Austria — "Spectre."
Courtesy Andrea David/Filmtourismus.de
As well as promoting moments from blockbusters, David also highlights lesser-known German films — and she has a knack for tracking down difficult-to-find locations.
Now she's gained a following, David has started working more with tourism boards and travel companies. This helps her track down some of the trickier locations.
But David still insists that a lot of it is detective work — she says she spends a lot of time "comparing film stills with Google Street View or showing them [to] residents and tour guides while traveling."
Film fanatic

David has taken several shots of "Game of Thrones" locations. Pictured here: Dubrovnik, Croatia — "Game of Thrones."
Courtesy Andrea David/Filmtourismus.de
Some of David's favorite film locations are locales used in slightly older movies.
"Among my favorites ranks the real Kellerman's Resort of 'Dirty Dancing' in Virginia, the town in British Columbia where they filmed 'Rambo — First Blood' and the village near Atlanta seen in 'Fried Green Tomatoes,' " she says.
David is fascinated by how location filming can impact tourism trends.
"These locations benefit even after decades," she says.

David is fascinated by how locations can benefit from their involvement in film or TV. Pictured here: Jackson Street Bridge, Atlanta, Georgia — "The Walking Dead."
Courtesy Andrea David/Filmtourismus.de
It's not just film fans who embark on pilgrimage to beloved backdrops. Hit TV series can also impact tourism. The success of "Game of Thrones" has upped visitors to Northern Ireland, Iceland and Croatia — where some pivotal moments in the popular show were filmed.
"When it comes to TV shows I mostly like 'Game of Thrones,' 'The Walking Dead,' 'Sherlock Holmes,' 'Homeland,' 'Westworld,' 'Stranger Things,' 'Dark' and many many more," says David.
She has traveled to spots including Myvatn in Iceland and Audley's Castle in Northern Ireland — both of which have become popular tourist spots after featuring in "Game of Thrones."
She has also photographed Jackson Street Bridge in Atlanta, Georgia — featured in "The Walking Dead" — and Scottish castles from hit TV series "Outlander."
Sharing passions

David loves her job, but says it still involves a lot of hard work. Pictured here: Thailand — "The Beach."
Courtesy Andrea David/Filmtourismus.de
David loves that she can make a living out of her love from film — and she also enjoys connecting with other movie fans across the world.
"It is great to see that so many people share this passion for the combination of travel and film," she says.
David admits it's a dream job, but says that "being on vacation all the time" isn't always easy: "Besides the passion, it's a great deal of work," she says.
Nevertheless, the blogger wants to continue to explore the world through the lens of the silver screen:
"I would love to travel to visit "Middle-earth" in New Zealand, the "Star Wars" locations in Tunisia, the valley in Hawaii known from "Jurassic Park," only to name a few," she says. "My wish list does not really have an end."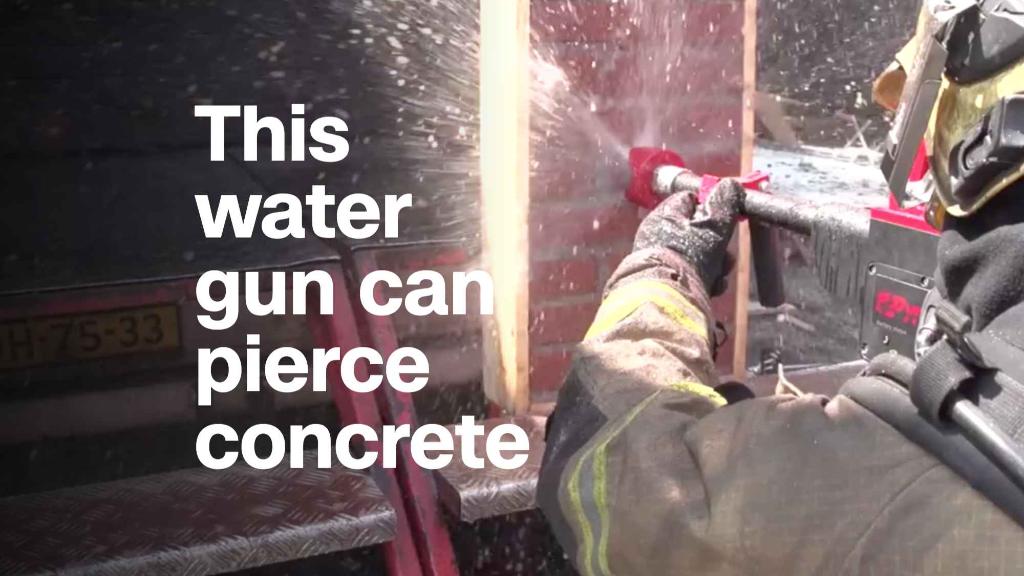 How do firefighters put out a blaze when they can't reach the flames?
That's the challenge firefighters confronted in 2008, when a B-2 Stealth Bomber crashed on the runway at an American airbase in Guam.
The crew successfully ejected, but the hugely expensive aircraft was completely destroyed by a fire that burned deep within its wreckage.
"The firefighters had difficulty getting through the composite layers of the aircraft skin to fight the fire," U.S. Air Force Chief Master Sgt. Scott Knupp told CNNMoney.
The loss of the aircraft prompted the Air Force to search for a solution.
"We were looking for some type of technology out there that would help us penetrate through [to] hard-to-reach spaces to get water onto the fire," said Knupp.
Air Force firefighters now use a system called PyroLance — a firefighting "gun" that can blast through steel, brick or concrete walls, and even bullet-resistant glass.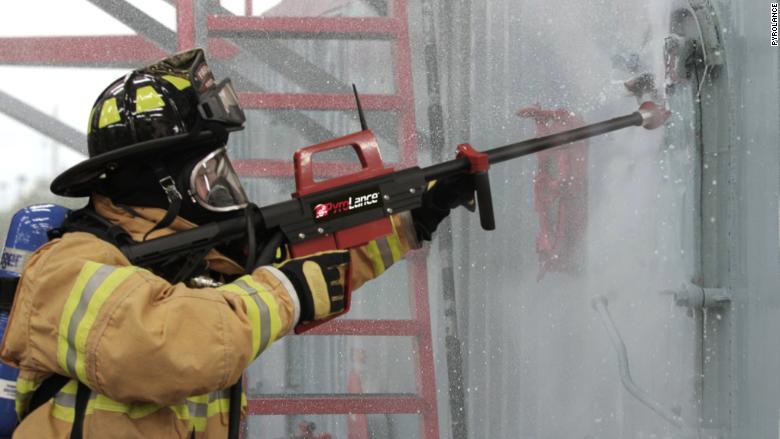 The hand-held device uses a mixture of pressurized water and granite material to pierce a six millimeter-wide hole through obstacles.
Once the ultra-high pressure spray penetrates the surface, the PyroLance nozzle continues to pump a fine mist of micro droplets into the enclosed space, lowering the temperature from around 1,500 F to 200 F in less than a minute.
Using ultra-high pressure (UHP) technology to put out fires isn't new in itself. The Air Force Research Laboratory at Tyndall Air Force Base in Florida began researching and testing UHP in the mid 2000s.
It found that water pumped at higher pressures produces millions of micro water droplets. This spray extends across a greater surface area, helping extinguish fires faster while using less water.
But PyroLance president Scott Alexander said his company is the only one that uses the technology to penetrate a barrier and extinguish a fire.
PyroLance began supplying the U.S. Air Force five years ago and the technology has also been adopted by the U.S. Navy, as well as numerous airports and fire services around the world.
The system costs from $15,000 to $80,000, and the company hopes to sell 350 units at home and abroad over the next year.
Alexander said that one of the biggest challenges his company faces is convincing firefighters that it isn't trying to eliminate their jobs or "take the fun out of firefighting."
He said the company wants to reduce firefighters' exposure to intense heat, deadly backdrafts and toxic smoke environments.
"The reality is we're trying to keep them safe," he said.
CNNMoney (London) First published February 5, 2018: 10:36 AM ET